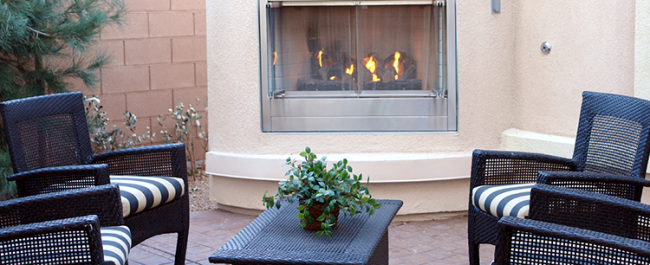 Popular Trends for Luxury Homes in 2016
As we are getting closer to 2016, many home buyers want to know what luxury home features are going to be popular in the upcoming years. These are trends that we see happening within luxury homes that make homes more attractive to buyers and make homes feel modern.
8 Top Upcoming Trends for Luxury Homes in 2016
1. Outdoor Fire Features
This is an especially nice feature for homes that have pools. It is nice to take a dip in the pool and then warm yourself by the fire. A crackling fire makes luxury homes feel nice and cozy.
2. Bathroom and Makeup Vanities
It is becoming more popular to have makeup vanities attached to master bathrooms. Makeup vanities give ladies additional space where they can do their makeup and normal beauty routine without taking up counter space in the bathroom. It also gives additional storage for all the products and brushes.
3. Luxurious Showers
About a decade ago, luxury homes were all about the power jet tub But with the drought affecting Southern California and the South Bay, luxury homes have been moving more towards the luxury showers. Many luxury homes have impressive, spacious stand alone showers with multiple shower heads and seating.
4. Wine Cellars and Tasting Rooms
Wine cellars are no longer the dark cold rooms they once were. Now many luxury homes have tasting rooms where homeowners can invite their friends and enjoy a wine tasting party together.
5. Casual Eating Spaces
Many homeowners do not want to eat in the dining room at all times. It is important that they have a spot where they can eat breakfast or lunch in the kitchen. Many luxury homes have cute breakfast nooks that have large portrait windows that offer beautiful views. Also, it is popular to have kitchen islands with dining spaces.
6. Outdoor Kitchens
Nothing makes it feel like summer in the South Bay more than a barbecue. Having an outdoor kitchen gives a welcoming atmosphere to any backyard and makes these summer parties a breeze. Most outdoor kitchens have a grill, refrigerator, sink, and food prep space.
7. Infinity Pools with Ocean Views
In the south bay, most luxury homes are also ocean view homes. Many ocean view homes make the most of their outdoor space by installing an infinity pool. An infinity pool with an ocean view can make it look like the pool blends with the ocean, giving the outdoor space an opulent feel.
8. Exercise Rooms
Many luxury homes bring the gyms to the homeowners. A separate exercise room can help homeowners feel comfortable during their workouts. They can also personalize their exercise room to the type of exercise that they enjoy. Many homeowners create their own yoga or pilates studio or kickboxing gym.
These are some impressive features that are going to be popular in luxury homes in the future. These are some cool features that you should look for if you are looking at luxury homes. If you are interested in selling your luxury home, you may want to talk to a realtor about how installing some of these features into your home can increase your home's value and if it's worth the investment.
Looking for a Dream Home in the South Bay? Get the Best House-Hunting Tips Delivered Right to Your Inbox!