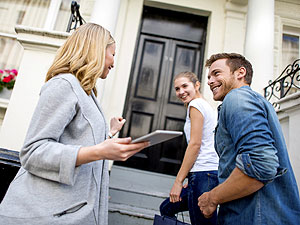 Mistake # 2 – Poor Negotiation
Every home buyer wants the lowest possible price on a home, especially in Southern California where the cost of real estate is comparatively high to the rest of the country. However, there is a big difference between effective negotiating and impulsive low-balling when bidding on a home. A buyer should be equipped with the economic facts of the home in which he or she would like live and make the purchase at or below their planned budget. Below are a few suggestions to navigate the offer and negotiation process during a home purchase:
Plan Your Budget and Establish a "Walking Away Point" – In 1996, Thomas Stanley and William Danko wrote a book called 'The Millionaire Next Door.' In the book, the authors surveyed the common financial behaviors of people with a net worth of seven figures or above. When they analyzed the behavior of these people when purchasing homes, they found a general pattern that millionaires were always willing to walk away from a home purchase, if they didn't feel like they were getting a fair price. You should do the same. Establish your home buying budget ahead of time and stick to it, unconditionally.
Analyze Comparable Sales – Review comparable sales in the neighborhood with your Realtor. Your Realtor should be looking back at 6 months of inventory and telling you why the subject property should sell for more or less than comparables.
Analyze Neighborhood Inventory – Look at homes that are for sale around the subject property. Is this house priced well compared to the others? If there are 10 similar properties on the market and listed at the same price, you have a good reason to offer less than the asking price.
Ask the Seller Questions – Have your Realtor call the Seller's Realtor. He/she should ask the questions below. As a caveat, the Seller's Realtor is not legally or otherwise required to answer any of these questions. Have your Realtor ask them anyway. Any Seller information is good to have:
• Do you have any current offers?
• If not, do you know of any offers coming in?
• Have you had offers in the past? If yes, why didn't the Seller accept those offers?
• Why is your client selling?
• Do you know what price the Seller would reject (i.e. Their "Walking Away Point")?
• If the Seller has multiple offers, ask the Realtor the price and terms of the other offers
Stay In the Game (With Multiple Offers) – As a general rule, if the house has been on the market for 30 days or more, it is overpriced. However, with the lack of inventory in the South bay and Palos Verdes area, it is not uncommon to encounter 3 offers on a house that has been listed for 6 months. Don't be intimidated by this. Stay in the game, keep making intelligent offers and be patient.
Stay In the Game (With Cash Buyers) – Low balling is common among cash buyers. All cash buyers are a reality in the South Bay/Palos Verdes and attractive to Sellers because they are less risky and can close escrow quickly. If the Seller's Realtor tells you there is an all cash offer and you need financing, you need to increase your offer….but not above your "walking away point." This will give the Seller an incentive to take a risk with your offer for more money. Another way to compete with multiple offers is to find out what is most important to a Seller. For example, a buyer who will be a good member of the neighborhood. In these cases, a hand written letter to the Seller with a photo of your family can sometimes make the difference.
In a real estate bull market, like the one we are currently experiencing, uninformed low ball offers will frequently insult the Seller and eliminate a prospective Buyer from the bid process. Commit yourself to careful planning, research and persistence during your home search and you will find the home that is right for you.